What Does A Record Producer Do?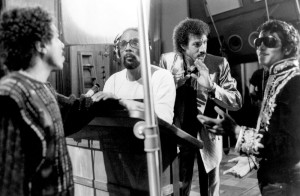 A record producer is an individual working within the music industry, whose job is to oversee and manage the recording (i.e. "production") of an artist's music. A producer has many roles that may include, but are not limited to, gathering ideas for the project, selecting songs and/or musicians, coaching the artist and musicians in the studio, controlling the recording sessions, and supervising the entire process through mixing and mastering. Producers also often take on a wider entrepreneurial role, with responsibility for the budget, schedules, and negotiations.
Today, the recording industry has two kinds of producers: executive producer and music producer; they have different roles. While an executive producer oversees a project's finances, a music producer oversees the creation of the music.
The music producer's job is to create, shape, and mold a piece of music. The scope of responsibility may be one or two songs or an artist's entire album – in which case the producer will typically develop an overall vision for the album and how the various songs may interrelate.
In the US, before the rise of the record producer, someone from A&R would oversee the recording session(s), assuming responsibility for creative decisions relating to the recording.
With today's relatively easy access to technology, an alternative to the record producer just mentioned, is the so-called 'bedroom producer'. With today's technological advances, it is very easy for a producer to achieve high quality tracks without the use of a single instrument; that happens in urban music (like hip hop, rap, etc.). Many established artists take this approach.
In most cases the music producer is also a competent arranger, composer, musician or songwriter who can bring fresh ideas to a project. As well as making any songwriting and arrangement adjustments, the producer often selects and/or gives suggestions to the mixing engineer, who takes the raw recorded tracks and edits and modifies them with hardware and software tools and creates a stereo and/or surround sound "mix" of all the individual voices sounds and instruments, which is in turn given further adjustment by a mastering engineer. The producer will also liaise with the recording engineer who concentrates on the technical aspects of recording, whereas the executive producer keeps an eye on the overall project's marketability.